The economic outlook for California has perked up and the state should escape double-digit jobless levels more quickly than previously thought, researchers said Wednesday.
"Things look slightly better," said Jerry Nickelsburg, a senior economist with the UCLA Anderson Forecast, which released its quarterly outlook.
California is expected to suffer a 10.8 percent average jobless rate this year, but that should improve to an average of 9.8 percent next year.
That outlook is brighter than the group's previous view. In December, the Anderson Forecast predicted a 10.5 percent unemployment rate for 2013.
"We are seeing improvement in the labor markets," Nickelsburg said.
What's more, job growth should steadily improve in the coming years, the researchers predicted.
The number of payroll jobs in California increased 1.2 percent last year, according to the Employment Development Department.
Read More
A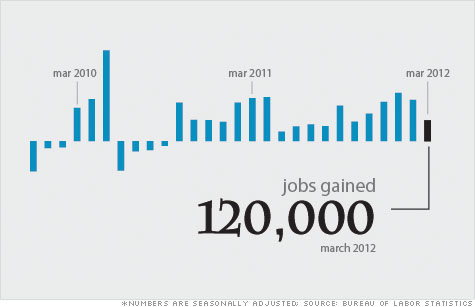 The country's employers added a disappointing 120,000 jobs in March, about half the gains posted in each of the preceding three months. The unemployment rate, which comes from a separate survey of households rather than employers, slipped to 8.2 percent from 8.3 percent, as a lower portion of the population was looking for work.
The slowdown suggests that employers remain cautious about hiring as they digest the impact of rising gas prices and uncertainty about health care and pensions costs.
Politicians seized on the slippage, with the Republican front-runner, Mitt Romney, characterizing the report as "weak and very troubling." President Barack Obama, for his part, acknowledged the "ups and downs" of the job market.
"It's clear to every American that there will still be ups and downs along the way, and that we've still got a lot to do," the president said at a White House forum on women and the economy.
Obama accentuated the positive elements of a report that showed persistent weaknesses in the job market. The unemployment rate, he said, "ticked down," while the United States added 600,000 jobs in the past three months.
Read More